Home

/

TIG

/

TIG Brush TBX-330 Weld Cleaner. Propel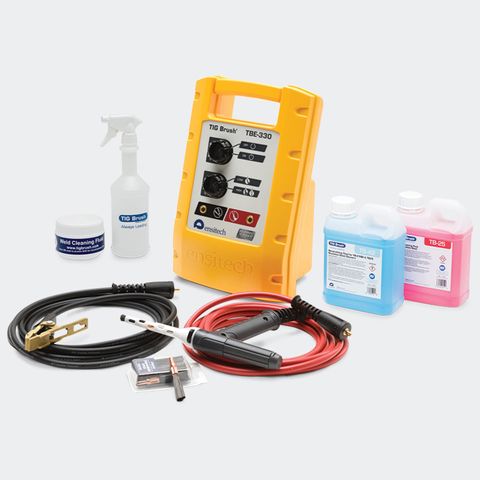 Stock Code:
K-X330S-F2542
TIG Brush TBX-330 Weld Cleaner. Propel
Price:
$2,731.05(excl.GST)
The TIG Brush 330 allows you to enjoy the power of professional weld cleaning in a compact, specific-purpose unit.

The TIG Brush 330 is designed as an economical alternative to hazardous pickling acids and labour-intensive abrasive processes, for those who only want to clean and passivate stainless steel.

The 330 TIG Brush efficiently removes discoloration, heat tint, and oxides from your welds.
In a bright safety conscious colour, when paired with Ensitech Genuine Fluids, the TIG Brush 330 uses an electrochemical process that cleans and passivates instantly, ensuring your welds are not only clean, but protected against future potential corrosion.

Features:
- Passivation focused: cleans and instantaneously passivates the weld bead and stainless steel surfaces as well as rear oxidation.
- Single purpose, easy set-up and simple operation controls.
- 100% duty cycle provides self-cooling technology and eliminates unnecessary downtime.
- Patented Dynamic Power Transfer delivers the right amount of power to provide consistent performance.
- Brightly coloured, designed for portability and suitable for onsite and in the workshop.
- IP65 rated making the control unit both dust and showerproof.
- No fan or vents: no risk of dust build-up or damage to the internal electronics.
- Push-in brush (PIB) technology.
- Backwards compatible with all previous TIG Brush application tools.