Home

/

Lincoln Powercraft 250M 4-in-1 Welder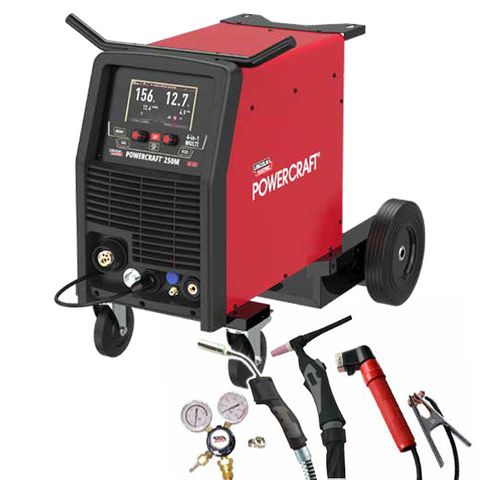 Lincoln Powercraft 250M 4-in-1 Welder
Price:
$3,873.05(excl.GST)
The Powercraft 250M is a 4-in-1 industrial quality inverter-based welder
Suitable for various all position welding work.
Processes:
MIG (GMAW)
Flux-cored (FCAW)
Pulse AC/DC TIG (GTAW)
Lift DC TIG
High Frequency AC/DC TIG
Stick (SMAW/MMA)
Features:
LED Display with EZYSET technology, allows for easy continuous adjustment of voltage, wire feed and setting of welding parameters.
10 memory function. All programs are easily accessed including Synergic control of amps and volts with one knob control.
Fine adjustments to the voltage are possible giving you greater control of the weld pool.
New pulse width modulation (PWM) technology and IGBT inverter technology.
Built-in automatic protection functions to protect the machine from over-voltage, over-currentand overload.
Hot start improves electrode starting.
VRD provides added safety to the welding operator.
Multi voltage input can be used with long extension leads (up to 20m).
Spool gun ready with a simple connection.
MIG Proccess Features:
Synergic programs for aluminium, mild steel, stainless steel and copper-silicon
2T, 4T, spot welding modes – HF only AC and DC
Function parameter adjustment
Weld with gasless or FCAW wire for excellent welding results.
TIG Process Features:
Pulse AC/DC TIG.
High frequency AC/DC TIG.
2T/4T trigger control.
Adjustable up and down slope.
Spot welding mode for TIG HF.
High Frequency Arc ignition
Lift Arc ignition for starting in an exact joint location, prevents tungsten sticking during arc ignition
HF AC/DC TIG delivers perfect arc ignitionand smooth stable arc producing high qualityTIG welds.
Functionality includes pulse, adjustable up and down slope and pre/post gas flow.
Package includes:
Powercraft 250M power source.
MIG gun (3m).
TIG torch (4m).
Electrode holder (3m).
Work return lead (3m).
Flowmeter.
Gas hose.
Input lead 15 amp plug (3m).
Drive rolls solid 0.6/0.8mm and 0.8/0.9mm.
0.9mm contact tip (inside the MIG gun)
Voltage 240V 1Ph @ 50-60Hz

Duty cycle:
MIG: 250A@18% / 140A@60% / 105A@100%
TIG: 250A@20% / 145A@60% / 110A@100%
STICK: 250A@15% / 125A@60% / 95A@100%

Current Range:
MIG: 30-250A
TIG: 10-250A
STICK: 10-250A

Wire Diameter, mm
Fe: 0.6 / 0.8 / 0.9 / 1.0 / 1.2
SS: 0.8 / 1.0
Flux-Cored: 0.6 /0.8 /0.9 /1.2
Al: 1.2

Dimensions: 950x540x840mm
Weight: 53.5kg
Warranty: 3 Year Conditional Warranty