Home

/

Cigweld BlueVenom XF190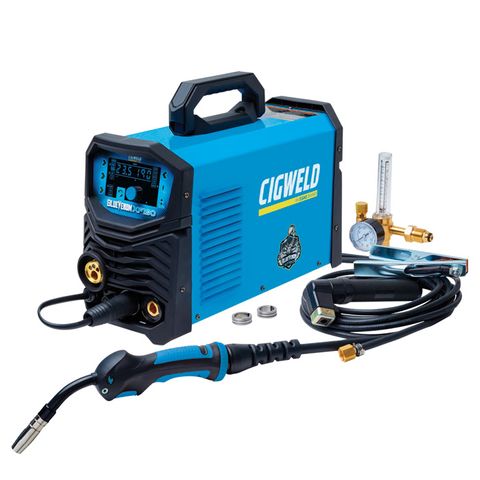 Cigweld BlueVenom XF190
Price:
$1,090.00(excl.GST)
Cigweld BlueVenom XF190
Sinergic 3-in-1 Welding Inverter With MIG Plate Thickness Selection.
30% smaller and lighter than most of machines in its class!

The BlueVENOM XF190 is the perfect solution for light fabrication, maintenance and repairs or for DIY around the home, workshop, worksite, or farm without compromising on quality, safety and performance.
Processes:
MIG (QuickSet and Manual, Gas & Gasless)
Stick (MMAW)
TIG (DC Lift TIG)
The BlueVenom XF190 comes with an integrated wire feeder that holds up to a 200mm spool.
Professional Features to ensure optimal welding results:
You can weld most metals including Mild Steel, Stainless Steel, Aluminium and Bronze
Great welding results from domestic household 230V/240V x 10A power
Opti-Start, a feature that allows the user to customise their starting arc characteristics through Soft and Hard Start controls.
2 x Roll All-Driven (top & bottom) Wire Drive system.
MIG Adjustable Wire Burnback & Inductance
MIG Wire Inch button
MIG Gas Purge Button
MIG Side door wire installation, side loader
MIG Anti de-spooling safety feature
MIG Spool Gun Compatible
STICK with Voltage Reduction Device (VRD) built-in for Safe Welding
STICK Adjustable Hot Start
STICK Adjustable Arc Force
STICK Anti-Stick
Thermal Overload Protection
TIG Foot Control Compatible
TIG Dial Remote Torch Compatible
Package Includes:
BlueVENOM XF190 Power Source
CMGBZ15E3 MIG Gun 3m- Euro quick connector
Work Clamp with 3m Lead
Twist Lock Electrode Holder with 3m Lead
2 x Feed Rolls: 0.8/0.9mm Gasless, 0.8/0.9mm Solid Wires (Fitted).
2m Argon Gas Hose and Gas Regulator
Includes Nylon Inlet Guide for use on Soft Alloy Wires
Power Supply (Voltage): Single-Phase 230V/240V +/- 15%
Supply Frequency: 50/60Hz
Supply Lead and Plug supplied: 10 Amp

Amperage Range (MIG): 30 - 190A
Voltage Range (MIG): 15.5 - 26.0V

MIG (GMAW) Duty Cycle @ 40°C: 185 Amps @ 9% | 72 Amps @ 60% | 56 Amps @ 100%
STICK (MMAW) Duty Cycle @ 40°C: 160 Amps @ 10% | 65 Amps @ 60% | 50 Amps @ 100%
TIG (GTAW) Duty Cycle @ 40°C: 190 Amps @ 10% | 77 Amps @ 60% | 60 Amps @ 100%

2- Year Conditional Warranty

Weight of Power Source: 9.5kg
Power Source Dimensions (mm): L: 465 x W: 190 x H: 340