Home

/

Lincoln Powercraft 206 TIG AC/DC Welder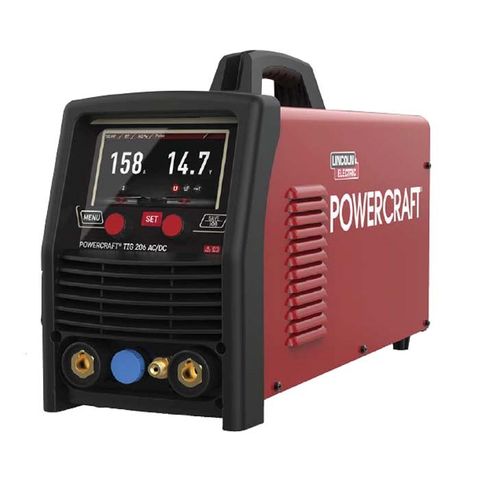 Lincoln Powercraft 206 TIG AC/DC Welder
Price:
$2,195.00(excl.GST)
Offers a greater duty cycle with energy saving efficiencies often seen in some larger industrial machines.
Delivers perfect arc ignition every time and a smooth stable arc producing high quality TIG welds.
Highly versatile and portable can be used in the workshop or on-site by contractors, general fabrication, sheet metal, maintenance / repair, rural and general DIY.
Capable of processes:
AC/DC TIG, HF TIG, Lift TIG & Stick
Features:
200 amp 240V /10 amp inverter-based welder.
LCD screen
10 memory functions allows you to set various parameters such as start current, crater current, welding current, base current, duty ratio, upslope time, downslope time, pre-gas, post-gas and pulse frequency.
Hot start and arc force parameters can also be set in the user interface.
New PWM technology and IGBT inverter technology.
Built-in automatic protection functions and VRD provide added safety to the welding operator in stick mode.
Active PFC technology for increased duty cycle and energy efficiency.
Over-voltage, over-current and over-heating protection technology
Can use with long extension lead.
Ready-to Weld Package includes:
Powercraft 206 AC/DC TIG power source
TIG torch (4m)
Electrode holder (3m)
Work clamp
Gas hose
Flowmeter
Input lead (3m) with 10 amp plug
Voltage 240V±10% 1Ph @ 50-60Hz

Duty cycle, 40°C
TIG: 20% 200A / 60% 115A / 100% 90A
STICK: 10% 200A / 60% 85A / 100% 65A

Current Range:
TIG: 10-200A
STICK: 30-200A

Dimensions: 350x220x580mm
Weight: 12.1 kg
Warranty: 3 years Commercial Warranty