Home

/

Cigweld Weldskill 205 AC/DC TIG Welder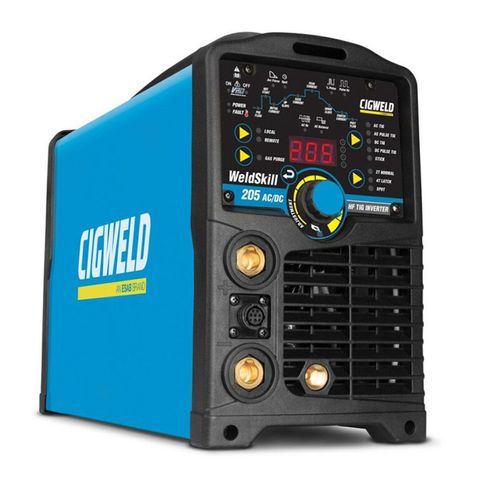 Cigweld Weldskill 205 AC/DC TIG Welder
Price:
$2,500.00(excl.GST)
The Cigweld 205 AC DC TIG Welder is a 15 Amp 240 volt, digitally controlled, High Frequency AC/DC TIG (GTAW) and Stick (MMAW) inverter
This unit is specifically designed for the budget conscious user who doesn't want to sacrifice on quality or weld results.
Ideal for indoor or outdoor use around the workshop and is easy to carry and maneuver into hard to reach places when doing light fabrication and maintenance of mild steels, stainless steels and aluminium.

In TIG mode the unit has all the features required to customise your welding preferences - High Frequency (HF), Up/Down Slope, Pre/Post Flow, 2T/4T Trigger Function, Spot Mode and Gas Purge for AC or DC TIG welding.
When welding in AC only, Frequency and Wave Balance can be refined with impressive adjustability and when operating in Pulse Mode the user has full flexibility to adjust Frequency, Width and Peak Current.
In Stick Mode the 205 AC/DC features VRD, Anti-Stick and Hot Start and can weld up to 4mm electrodes.
Processes:
AC/DC HF TIG (GTAW), Stick (MMAW)
Features:
15A Supply Lead
Light and portable 12kg power source
Can TIG Weld up to 8mm Aluminium Plate
Can STICK weld with up to 4mm electrodes
Pulse: Pulse Frequency / Pulse Width / Peak Current
AC Frequency / AC Wave Balance
Pre-Flow/Post-Flow Adjustment (TIG mode only)
Gas Purge
Spot Weld
Up Slope / Down Slope
Trigger Lock (2T, 4T)
Initial Current (4T)
Crater Current (4T)
Over Temp Protection
Anti-Stick (STICK)
Hot Start (STICK)
Digital Meter
VRD <35DC (Voltage Reduction Device)
IP23S (Indoor and Outdoor use)
Package Includes:
WeldSkill 205AC/DC HF TIG Inverter Power Source
TIG Torch with 8m Lead and Remote Control
TIG Torch Accessory Kit
CutSkill Preset Argon Regulator/Flowmeter
Twistlock Electrode Holder with 4m Lead
Work Clamp with 4m Lead
Shoulder Strap
Current Range
10-205A (TIG Mode), 10-160A (STICK Mode)

Duty Cycle
HF TIG: 205A @ 20%, 18.2V (40C, 10mins)
STICK: 160A @ 20%, 26.4V (40C, 10mins)

Generator Requirement: 10kVA
Open Circuit Voltage: (VRD On) <35V, (VRD Off) 63V
Supply Voltage: 240V, +/- 15%, 50/60Hz

Weight: 12kg (Power Source), 22.5kg (Package)
Dimensions: 324H x 176W x 430D mm

Warranty: 3 Year Warranty

Supply Plug & Lead: 15A