Home

/

Cigweld Transmig 185 Ultra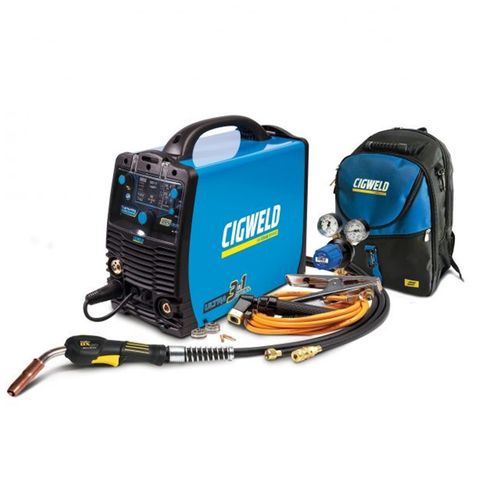 Cigweld Transmig 185 Ultra
Price:
$1,990.00(excl.GST)
Features an impressive AUTO SET function that allows the user to weld like a Pro with no previous welding experience necessary.
Simply select the material type, thickness & consumable diameter and AUTO SET will pre-set the Wirefeed Speed (Amperage) and Voltage (MIG) along a pre-programmed synergic line.
Experienced welders can then customise their settings by tweaking their wire speed and volts according to their technique and other factors.

The AUTO SET function is available in all 3 processes: MIG, STICK and TIG.
Easily return to your previous weld using Memory Function, or save up to 9 of your favourite weld settings.
The 185 Ultra comes with an integrated wire feeder that holds up to a 200mm spool.
Professional Features to ensure optimal welding results:
Inverter Technology
Burnback Control
Arc Control
2T/4T
Spot/Stitch Weld
Pre/Post Flow
Up/Down Slope
Arc Force
Hot Start
Anti-Stick
VRD (applicable in Stick mode only).
The 185 Ultra is fitted with a 10Amp plug, allowing you the flexibility to plug and play anywhere in your home or workshop.
Package Includes:
Transmig 185 Ultra Power Source
Tweco Fusion DX250 MIG Torch 3m
Comet Professional Argon Regulator/Flowmeter
Feed rolls: 0.8/0.9mm V Groove (fitted)
1.0/1.2mm U Groove; 0.8/0.9mm V Knurled
Contact Tips: 0.8mm (fitted) 0.9mm; 1.0mm
Twistlock Electrode Holder with 4m Lead
Work Clamp with 4m Lead
Shielding Gas Hose Assembly Quick Connect
Shoulder Strap
Power Supply (Voltage): Single-Phase 240V +/- 15%
Supply Frequency: 50/60Hz
Supply Lead and Plug supplied: 10 Amp

Amperage Range (MIG): 30 - 185A
Voltage Range (MIG): 15.5 - 23.3V

MIG (GMAW) Duty Cycle @ 40°C: 185 Amps @ 20% | 116 Amps @ 60% | 90 Amps @ 100%
STICK (MMAW) Duty Cycle @ 40°C: 185 Amps @ 15% | 95 Amps @ 60% | 80 Amps @ 100%
TIG (GTAW) Duty Cycle @ 40°C: 185 Amps @ 20% | 116 Amps @ 60% | 90 Amps @ 100%

3- Year Conditional Warranty

Weight of Power Source: 17.4kg
Power Source Dimensions (mm): L: 520 x W: 220 x H: 420